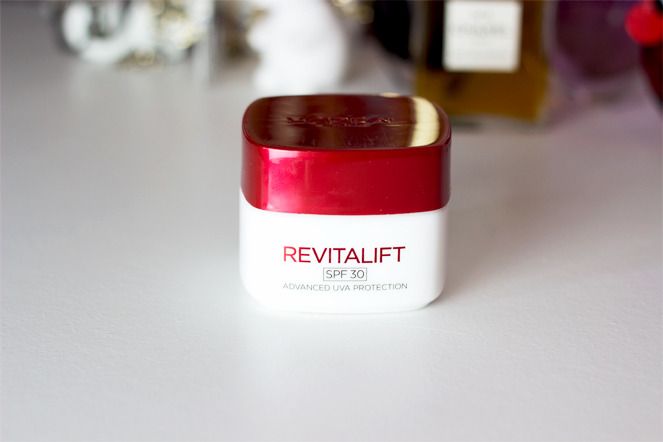 I know nothing about skincare. At all. As in I take my makeup off with Johnson's baby lotion. I'm not even sure what Johnson's baby lotion is actually for but it's probably not for taking makeup off...
Come Dine With Me almost changed my mind though, there was a lady on there who looked like she only sipped from the best youth fountains and claimed it was down to a whole host of anti-ageing skin care along with a good SPF moisturiser. So off I went to Boots to copy her, thinking that at 50 I'd look like a smug cherub. I'm 28 so figured 22 years of preparation would be enough.
It was kind of a panic grab and go situation and L'Oreal Revitalift ended up in my basket because of the nice red packaging. On return home I saw people had said positive things about it, some claimed it "visibly reduced wrinkles" whilst others said they just liked the high SPF.
My thoughts? I tried it out for a few weeks (then gradually forgot to apply it) and can't say there were any visible differences in terms of looking less old, but as a moisturiser it's really rich and works well as a primer for heavier foundation. It also smells nice and clean. Like a spa.
So if you have dry skin and want year round sun protection then Revitalift is an inexpensive contender. If like me, you're looking for a bottled instagram filter, then maybe not.
Writing this post has brought back all the old fears of looking like the tree woman from Pocahontas, but a quick search has assured me that the best thing for 20's & 30's skin is water and good sun protection. Best dig out this Revitalift again then...