I'm normally useless with online browsing, I don't save anything I like and anything I bookmark gets lost in a sea of cat video links and wedding insertion from years ago. Then when it comes to actually spending money I'm back to square one and end up getting frustrated that I can't find anything I like.
So in comes
Lyst
, an online platform/shopping site perfect for anyone who loves procrastinating and lusting after everything. I'm obviously guilty of both so was more than happy to write this post in collaboration with them to show you all my new list making obsession.
The sign up process is super easy, there's no need to fill out a load of un necessary details, just a simple email address, username, and password then you're on your way to making your bank balance weep! Once you're in Lyst will ask you which designers you like so it can get a better idea of your tastes. You can skip past this if you like everything but by answering "no" to a few of the crazily priced designers it meant they wouldn't be recommended to me as much. Wins.
Your answers to the above will determine which products/brands are shown to you in their "New for you" section, sort of like a regular website's "new in" but with all your favourite brands and designers under one page! With a single click I'm now faced with all the delights of Zara, Topshop, and h&m.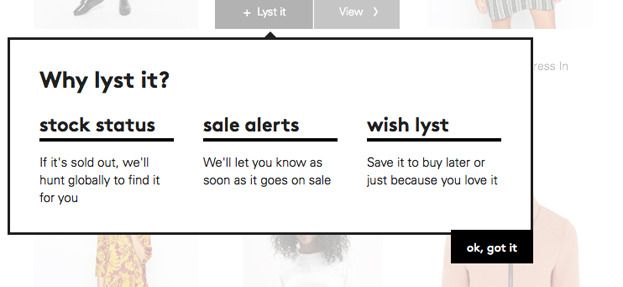 The above picture speaks for itself really, I do love me a sale alert and it's going to make my inbox less cluttered from now on as they'll all come from one place! I just need to remove the 43437 sale alerts already in there....
So once you're all signed up, shopping and making wish lists is really easy. You can either search for the product you want or
browse by designer
, then just click a product that takes your fancy and add it to your wish list - you can make as many of these as you want.
I booked a holiday recently and now everything I see is linked to some form of abroad occasion, "Oooh that'll be a good coverup for on the beach", or , "They're perfect for day trips!" So it seemed only right to create some
holiday lysts
. I went a little overboard with extravagance, realistically albeit sadly the Valentino studs will never be mine. Sigh.
There's also an option to browse other people's lists via the homepage. From chic wedding dress ideas to trendy swimwear options, there's pretty much something for everyone
If all of the above doesn't scream "I love lyst" enough, there's also an app. An app! So if you see the perfect dress on a boring commute you could always save it and send to a special someone via social media as a cheeky hint.
Let me know if you sign up so I can stalk all you're clobber wants. Or you can peek at
everything I've listed
instead!