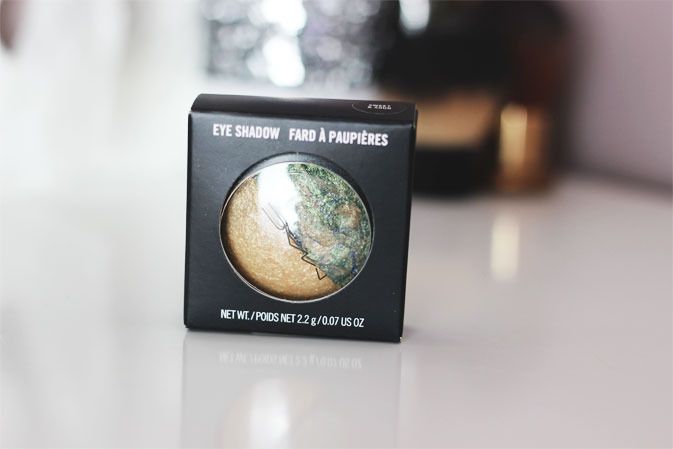 Mac Mineralize Eyeshadow Duo in Sweet & Sour
I took these photos yonks ago when I actually bought this, but I've been using Mac's mineralize eyeshadow in Sweet & Sour a lot more lately so I thought I'd give my 2 pennies worth....is that even a phrase? Or is it "two pence worth?"
Either way I like this. I like this a lot. Having blue/grey eyes I probably shouldn't be a fan of green eyeshadow but when these two are mixed together you'll end up with a gorgeous emeraldy goldy mixture that'll leave you looking bright eyed and shimmery. As you can see from the "swatch" above, it's quite a sheer colour not too different from the mineralise skin finishes, so for people that normally shy away from colour, this is deffs something to look at.
I stupidly didn't take a photo of the colours separately, but they're just as pretty on their own and look so much better in real life than in photos - I'm guessing this is due to the light catching all the little shimmery particles.
Wear-wise it's a topper upper unless you've got a mean primer, without it you'll probably be lucky to get 3 hours and will end up with (Gary) glitter cheeks. With the Urban Decay primer potion I've managed to get around 5 hours staying power and the fallout isn't as bad.
The mac mineralize eyeshadows are also pretty versatile as you can apply them wet for a dramatic "look at my eyeshadow!" look. To do this you just dunk your brush in water and pretend you're back in GCSE art...viola, a bold and buildable colour.
And speaking of application I've found this is best applied with a dense(r) brush in order to pack the colour onto your lid. Rather than swipe the shimmer around it's best to pat it on with a less fluffy brush. I've been using the
crown BK14
and it's been working well for me.
Have you tried any mineralize eyeshadows by Mac? Which are your favourites?