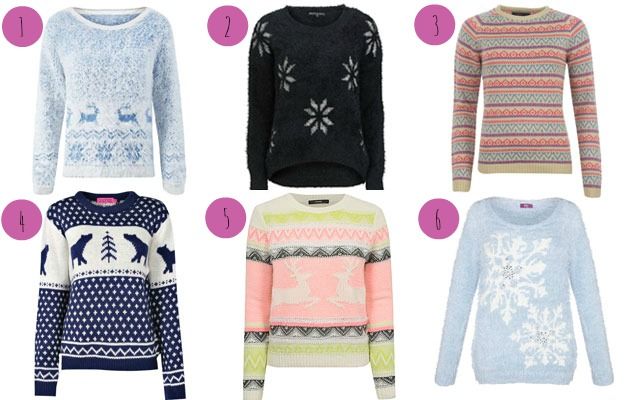 1 // 2 // 3 // 4 // 5 // 6
A few years ago (think Mark Darcy in Bridget Jones) Christmas jumpers were the things of nightmares, tacky prints, gaudy colours, and ugly characters were things you'd see in eighties movies or old family photos. Switch to the present day and they're everywhere, so much so that they've kind of become a bit
too
obvious a thing to do? Call me a humbug but there's only so many "Merry Christmas ya filthy animal" jumpers you can see before the joke gets old.
I don't want to be a complete Scrooge though, so this year I've decided to stick with fairisle esque prints, they're festive enough for Christmas but can also be worn throughout winter which makes them a win for me. These six are all pretty affordable and will also keep you warm in the run up to christmas, I'm loving the clash of pastels and reindeers on number five, and the eyelash knit of number one looks ridiculously comfy.
If you're reading this thinking "that's all very well but I want lights, novelly, elves, the works!" then fear not!
My Voucher Codes
have come up with a Christmas Jumper finder that gives you the pick of a few categories. Have a peek below!