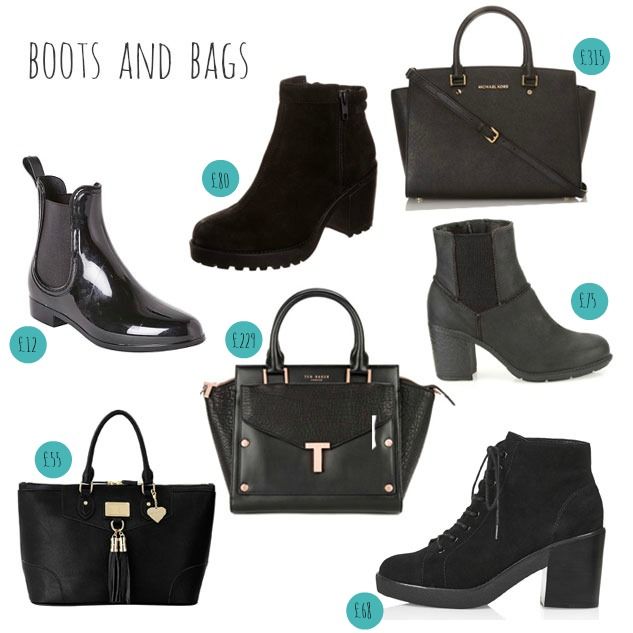 Vagabond Grace boots // Michael Kors Selma bag // Shiny Chelsea boots // Ted Baker bag
Clarks Chelsea boots // Marc B Willow bag // Topshop boots


I know it's hardly winter just yet, but the X factor has started which has left me dreaming of cosy nights in, crisp afternoons, and fires. Or in my case a little gas heater as I have no fire or central heating in this cold little house.


So whilst battling the crowds on Oxford Street this weekend my wintery mind wanted two things, boots and bags. I also took note of all the nicely dressed people floating through the hoards of shoppers (how do they do it? I look bedraggled after one shop!) and decided this year I'm going to spend a little extra dollar in the hope that both of these things last longer than a month. Don't get me wrong, I love my ebay chelseas but they're well worn, falling apart, and I can hear them begging me to send them to shoe heaven whenever I'm pulling them on.

So these are my picks, I know the patent cheapies from Matalan are a complete contradiction on what I've just said but they're cheap so I can always buy them on top of another pair! Other than magic steps at the age of 4 I've never owned a pair of Clarks shoes but apparently they're extra comfy so the chelsea boots from Brantano will be perfect for winter walks.
Bag wise I'm majorly lusting over the Michael Kors Selma bag but the price makes me wince, I've always been a low end hughstreet gal (is this even a thing?) so £300 on a bag is a bit insane for me, but it's just so classic and I can't see it ever looking out dated. Sameises to the marc B and Ted Baker bag really.
What are you lusting after this winter?
Bag