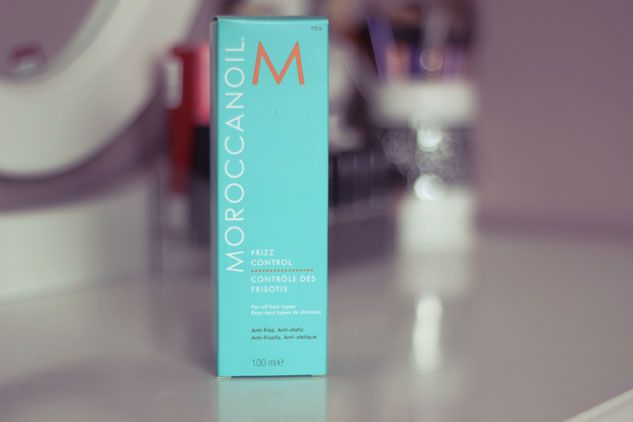 I was sent the moroccanoil frizz control spray via hair trade to try out and I'll admit that on first appearances I wasn't actually too sure how the product itself differed to the original moroccanoil. Both are applied to damp hair and both are frizz taming products, so other than the packaging what's different about this?
Well as soon as I applied the frizz control spray I knew I was going to prefer it to the oil treatment. It's much lighter and spritzes onto the hair easily, making it comb through wet hair effortlessly without feeling like it's coating it and weighing your tresses down. You can then either blow-dry your hair or leave it to dry naturally - I thought I'd put the frizz control to the test and see if it could battle my 10 year old hairdryer that normally leaves me looking like a scarecrow.
It won the battle! I noticed a difference in my hair straight away, it was smoother, less wiry, and relatively fuzz free. The spray pump also gives you a bit more control over how much product you apply too, with the original oil I sometimes go a bit overboard and just end up looking greasy.
So onto silicones, after the initial hype of moroccanoil it then faced a backlash of criticism at the amount of silicones it contains. Silicones are used in hair products to create an instant sleek n' shiny look but all they really do is give the illusion that you're boasting a beautiful barnet and don't actually do much to repair the hair. They can also build up to prevent any natural moisture working it's magic and can eventually leave you with dryer hair than you began with.
It was because of this I thought I'd have a peek at the ingredients in the moroccanoil frizz control, and I was pleased to see it contained less silicones than the oil! I'm no expert but from what I've read the three main ingredients in moroccanoil are cylopentasiloxane, dimethicone, cyclomethicone, all of which are non water soluble silicones that need a good scrub with a clarifying shampoo to remove.
However as far as I can tell, the Frizz Control only contains dimethicone making it better for your your hair in the long run.
So overall this product has been a winner for me and I'd highly recommend it for anyone with wiry hair like me. I'm now off to find the perfect hair dryer to go alongside it!