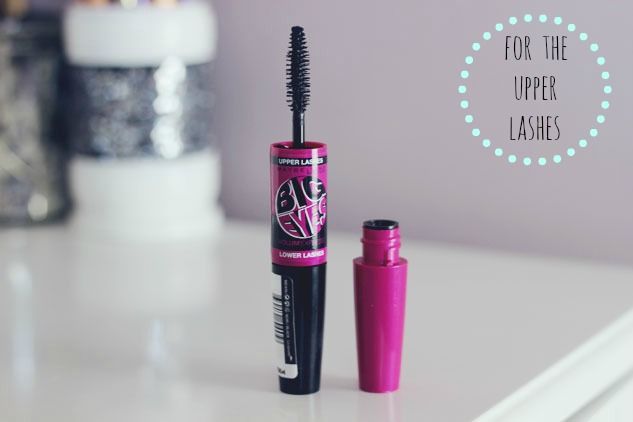 I don't really know where to start with this review, you know that part in 10 Things I Hate About You when the friend says "I know you can be overwhelmed and you can be underwhelmed, but can you ever just be whelmed?" Well whelmed sort of sums up my feelings towards the Maybelline big eyes mascara.

I fell for the flashy adverts a few months ago, the ones where we all know the models are wearing a million sets of false eyelashes but we still need to try the mascara in the hope it'll make us look like them. Anyway I don't normally wear any mascara at all on my bottom lashes so I thought I'd give it a go with this because the brush looked cute and I'll always opt for anything gimmicky.

The product is the same in both tubes with only the brushes being different, when I used it on my upper lashes I wasn't wowed by either the lengthening or curling abilities. It just looked, well, average. I tried piling on another coat but this sort of clumped and then throughout the day my eyes were really itchy and a bit flaky. I quite liked what it did to my bottom lashes but as I said before I've never worn mascara here so I've got nothing to compare the big eyes mascara too on that front

The staying power isn't great either because it seems to dry quite quickly and detach itself from your lashes half way through the day, so no eye rubbing whilst wearing this!

As you can see from the before and after photo I don't have a whole lotta lashes to work with anyway, but I just don't feel the "after" photo is all it could be? As I said before I've been left feeling whelmed and for £8.99 I expected something with a bit more of a wow factor. It's a mascara I'll use up but I don't think it's a repurchase for me!

Have you tried the Maybelline big eyes mascara? What did you think to it?