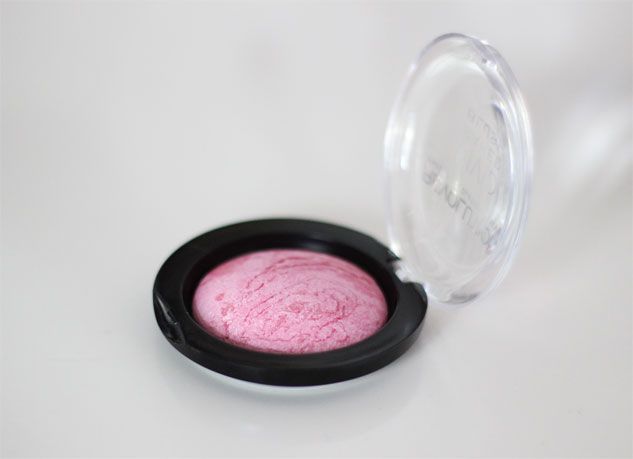 I'm becoming obsessed with Makeup Revolution and I'm already planning on making another cheeky Superdrug order once I finish writing this post! A couple of weeks ago I spent just over a tenner on four Makeup Revolution products and I'm already loving every thing I bought.
What lured me in was their baked products, I always say it but add a bit o' shimmer into anything and I'll love it, so when I saw they had six different colour choices at £2.50 each I very nearly swooned.
I ended up going with Bang Bang You're Dead which is a gorgeous deep pink in the pan but actually comes off a lot paler when swatched. It's got little waves of deep pink running through the pan so you can actually build it up to quite an intense colour if your face likes to be all dramatic. Ha I'm picturing the theatre masks wearing this blush now.
To look at, these baked blushes have a bit of a mineralize skin finish vibe but on the skin they're a lot different, it's much more of a wash of colour rather than an elegant wash of pretty shimmer. The finish isn't at all chalky either which is a win.
I've been majorly impressed with how they battle the 9-5 office elements too, I currently spend my days shivering under an aircon unit that wreaks havoc with my makeup but this little wonder product refused to be defeated and lasted a good few hours on my cheeks.
I feel bad saying this as they're 2 POUNDS FIFTY but I do need to cover packaging as I usually go mad for anything gimmicky and I judge products by their cover - the packaging isn't great. As in baked products are prone to cracking and I don't know if the plastic casing would do much to stop that? But lets forget those last couple of sentences as they're 2 POUNDS FIFTY and if it breaks you could just forgo that tub of ben & jerrys and buy another?
So yeah Makeup Revolution are my new favourite thing and I've been harping on about their pallets to anyone that'll listen! If you've been uming and ah-ing then ah no more as it's all currently on 3 for 2 at Superdrug!