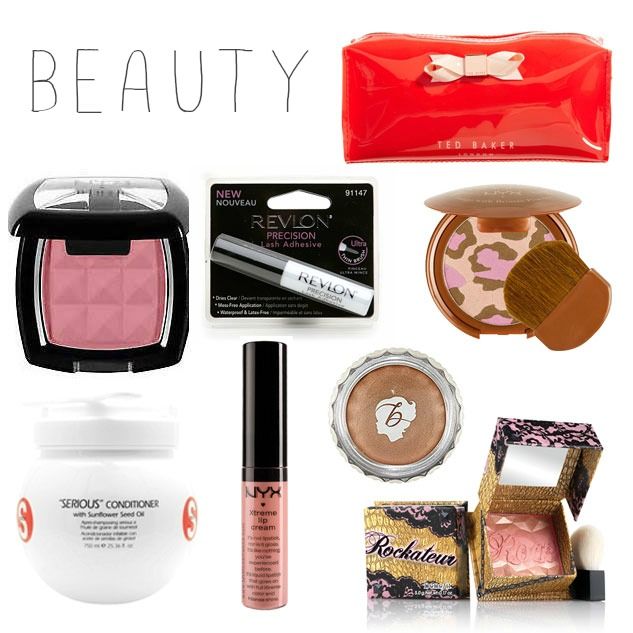 With only a mere 264 hours (not that I'm counting...) until I venture to the USA for the first time in my life, I decided to make a sort of visual list of products I want to buy. I can't believe November has come around so quickly, when we booked the holiday way back in March it seemed a lifetime away but now with just over a week to go I'm dreaming of beauty products and American style desserts. I'm just not looking forward to the flight much, last time I "did" long haul to Mexico it seemed never ending and the girl in front of me just
had
to recline her seat all the way back....
I actually stalked all of these for the prices in dollars and couldn't believe how much cheaper everything is. Actually I was looking at the real techniques brushes too and all the face ones are around £5 each! Just shows how expensive our little isle is. It's been decided I
must
buy Rockateur, I already have
sugarbomb
but it needs a little boxy friend.
Sorting out money to travel with has been a bit more complicated that I thought it'd be, it only dawned on me the other day that taking a wad of cash probably isn't the best idea and I didn't realise debit cards charged for a percentage of every transaction abroad either. So my options were either to sort myself out with a credit card for security or buy one of those pre paid things that are similar to old school travellers cheques, there's
lots of credit card deals out there
but I've left it a bit late to sort one now so I've gone with the latter.
Any tips for a New York newby? After all my research my money tip for anyone going overseas would be to
check your bank account
a few times during your trip to make sure you're on top of any unwanted charges. Oh and check the
weather
before you go, I booked the "starlight cruise" then realised it's going to be around 2 degrees at night time, other than that I'm all ears to your suggestions!