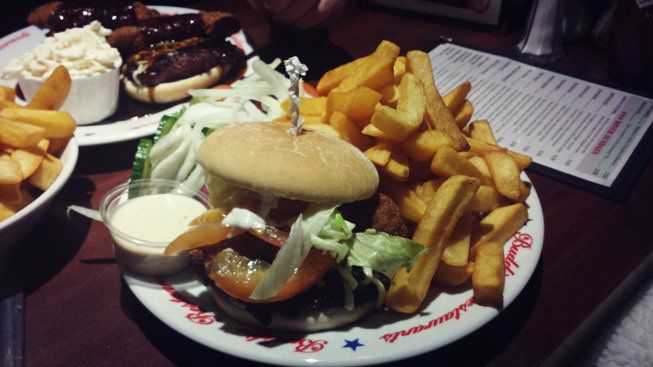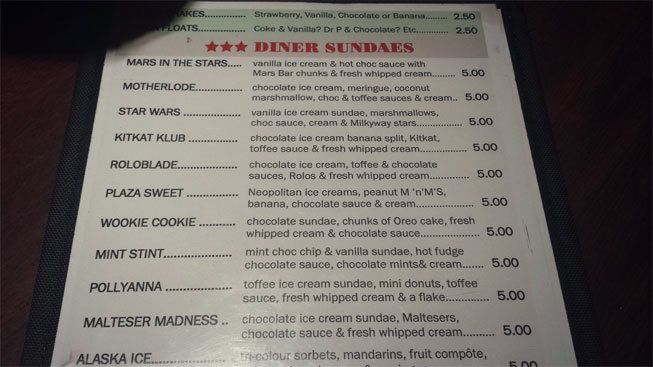 A couple of weeks ago me and Tom managed to get a bit of time together (a rarity when your
boyfriend
husband works in a pub) so we decided to don our winter warmers and have a stroll around the town fair. Obvs it was full of screaming children and cheesy happy hardcore music so we left pretty quickly and just happened to find ourselves in my favourite local chain
Buddies
.
There's now eight of these American style diners around Northamptonshire but on a quiet weekday evening the one in the town centre has to be my favourite, tucked on a backstreet between two other restaurants it's a cosy little haven of junk food goodness with a burger menu that can be confused for a novella. Mine in the photo is one of their "shrek" burgers which consists of a beef
and
a southern fried chicken burger topped with garlic mayo and lettuce, I swear I put on the pounds just looking at it but it felt so right. Tom had some sort of pulled pork wonder and despite the Sundae menu looking incredible (I'm now drooling over "mint stint) we were both too stuffed to contemplate desert so let our stomachs settle with a cheeky milkshake.
The prices at Buddies are pretty decent too and for me it wins every time over tgi's or any other similar style of eats, I think for all of this plus drinks we spent under £30, and you get some rather snazzy paraphernalia to look at whilst chowing down! We ended the night with a drink in the oh so classy lloyds and came back home to watch Karl Pilkington befriend a weird looking boy with too much plastic surgery. So overall a fab night!
So if you're ever in the area then deffs give it a go, or if you just want some food porn then have a peep at the never ending menu
here
This post isn't sponsored, I just like food. A lot.