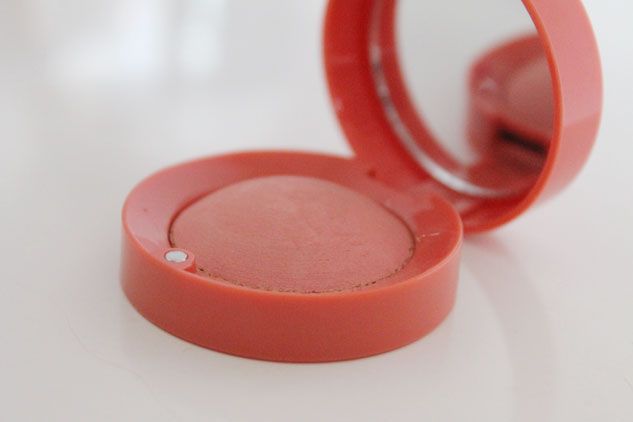 My blush collection is hardly massive, I think if I really dig around I could come up with a grand total of about 5, being a freckly freddy it's not something I wear everyday as I don't want them to mix and give me big orange splodges on my cheeks.
Although last week I grabbed my first ever bourjois blush (and actually my second ever bourjois purchase!) when everything was on 3 for 2 in Boots and I have worn it near enough every day. The colour is a gorgeous highly pigmented pinky peach that can be applied with a heavy hand for a dramatic look or with a slight swipe of a brush for a fresh faced day time affair. I'm a fan of the small packaging too, I know a few people are against the petite pots as they're not as cheap as other brands for what seems like a lot less product, but for me it fits nicely into my handbag and is quite a reasonable excuse for me to buy more! Can't say I'm over the moon with the little curved brush though and as with most free-with-product brushes it's gone in the bin, it's just so small and sehr rubbish!
Oh and there's another thing I'm not too keen on but I'm going to assume it'll be a love hate thing -
the smell
, it feels like I've gone to visit an elderly lady and dived face first into her bowl of pot pourri. It does go really quickly though and just leaves you with a pretty flush that lasts ages.
Right, off to watch this one direction programme that's constantly being advertised on channel 4, these girls look pure cray.