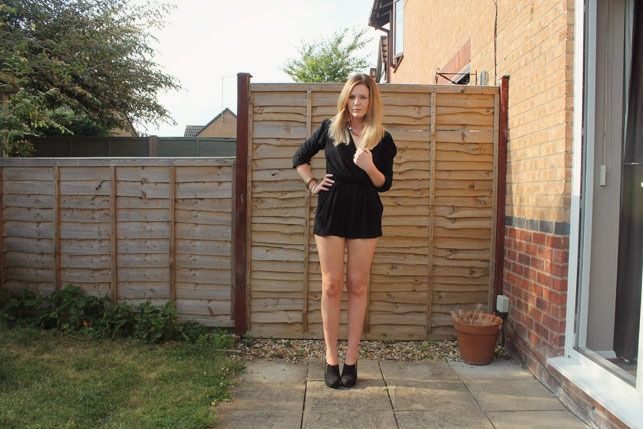 Playsuit: Inlovewithfashion (currently 25 % off with code sunday25 !)
Heels: Newlook
Necklace: h&m
So it's been an absolute age since I paraded around in front of my tripod whilst the neighbours look on in confusion. Why is this? Well there isn't really an answer other than I've had bad skin and coldsores recently which would have looked vile on camera. Cop out? Maybe.
It's still sort of there so I'm hoping I've stood far enough back from the camera so that you can't see it, but I couldn't not show you this wins playsuit that I bought around a month ago, especially as it's currently only £25.50 with the code sunday25. I'd wanted it for ages but it was constantly out of stock, in desperation for yet another playsuit I did attempt the
motel version
but it showed of wayyy too much bumcheek for my liking.
Catch up wise I've just been plodding along really, I've developed an obsession for frozen fruit smoothies which are the quickest and easiest thing ever and taste divine. Plus I bought the fruit already frozen so I didn't have the hassle of chopping everything up and peeling all the skin off, wins! Errr what else? Oh I got a parking fine for parking in Aldi whilst having my hair done which bugged me, as I even ran out pre hair "do" with dye all over my head to move it, yet as I was 10 minutes over I was slapped with a 40.00 fine, damn you parking eye!
This doesn't really have any relevance for my post in the slightest but another thing me and Thomas have been doing is buying tonnes of bags of the £1 share sizes from Mars. Each one has a code for a free cinema ticket and you only need four for a free entry. So £4 gets you a cinema ticket AND four bags of sweets! And no I've not been paid to blather on about this, I just think it's a pretty awesome deal.
Alas I feel I'm rambling now so I'm off to done some shorts, grab my Marian Keyes book and catch some ray(mond)s of sun before my cinema trip later.