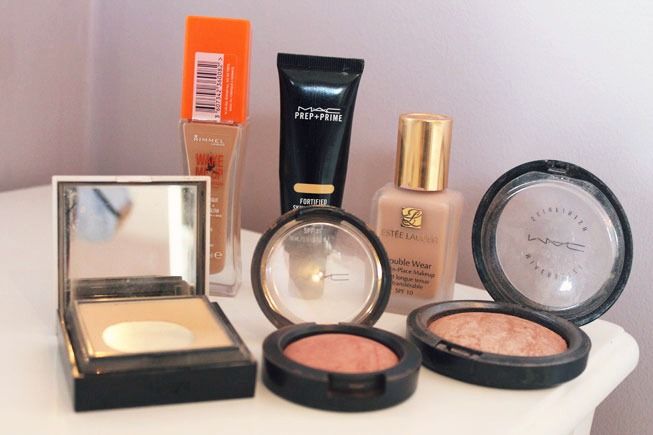 My job see's me sitting at my desk from 8:30 till 5 wearing a snazzy headset and talking a lot, but some reason I find my makeup doesn't last as long as it would on a busy Saturday? I blame the eye rubbing and the sticky office climate (gross).
So here's a combination of products I've found work well together and withstand the 8 hour days, probably not the best bunch for a hot day but for an aircon-ed office they're quite the team!
Mac Prep & Prime Skin Enhancer
- I've raved about this enough (see before and after pictures
here
) but all I can say is god sent. Be gone blotches!
Rimmel Wake Me Up Foundation
- I'm on my third tube of this and don't think I'll ever get bored of it, my skin is pretty dull and this works wonders on my sallow and getting old skin. I mix this with the heavier double wear and the two cuddle together and produce my dream foundation.
Estee Lauder Double Wear
- I have the
Estee Lauder
double wear in "cool bone"which is one of their newer shades for us cool toned folk, I've heard a few gripes about this not being pale enough (at the time we were told it was a replacement for shell) but it's probably the best match for foundation my skin has ever seen.
Benefit Hello Flawless
- I've been wearing this for three years. At £25.50 I wince but I don't think I could ever cheat on it with another powder. It works a dream at setting any foundation and doesn't look cakey at all.
Mac Mineralize Blush
I have this in the shade warm soul and it looks incredible against both a fake tan or pale skin. Plus the coral slash orangey shade doesn't clash with my freckles. I want more.
Mac Mineralize Skinfinish
Ah I do like to glow. I can't imagine ever getting up, looking in the mirror after applying my makeup, and
not
seeing soft and gentle shimmering away on my cheeks. This is another pricey purchase for me but I've used it pretty much everyday for around 8 months and I'm not seeing even a hint of pan.
So that's what I slap on my face for a day at the desk. What are your favourite long lasting prods?