Ever since I decided I wanted to buy a nice bracelet in New York I've been peeping at different sites for different treats for my wrists. And by nice I mean better than my usual chipped primark numbers. The issue I have is that my wrists are really small, so small that they make my hands look like big giant mickey mouse hands, and I find it hard to find something that isn't too tiny or too clunky.
Anyway I digress, I've found that Avenue 32 have some incredibly pretty pieces if you're up for "splashing the cash" (I really hate that phrase), and I've found three bracelets that I would be more than happy to own - I'm just gutted now that the scratch card I bought earlier wasn't luckier!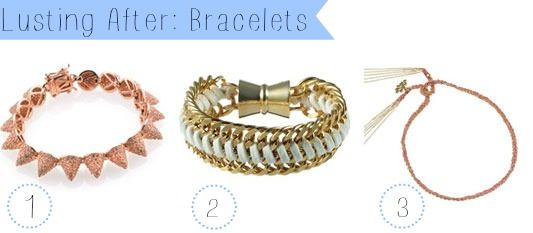 Having re visited my small wrist issue I think number two might be a bit too chunky for me but I love it all the same, and number three is just ridiculously pretty and dainty. My favourite has to be the
rose gold bracelet by Eddie Borgo
though, I reckon rose gold looks amazing on any skin tone and it's girly with just enough edge to it. Gimme.
So now I have a bracelet wish list as long as my arm I just need to plan loads of soirees to wear them too...I'm kidding myself, I know I'll just end up prancing around my house in them showing my arm off to the cat.
collaborative post