The other night whilst trying on loads of playsuits and dresses for a night out I had a bit of a strop, not only was I standing in a sea of crumpled clothes that were picking up cat hair by the second (this stresses me out immensely!) but I felt betrayed by my trusty blacks...
Because I don't go out often I always have one pair of trusty black heels that will be worn come rain or shine, and once I've worn them to death I just upgrade to another plain but safe pair. Anyway the sun had been a'shinin' that day and I just wasn't feeling black at all, so I huffed about not having enough colour in my life and donned the trusties that
may
have part of the heel coloured in a sharpie pen...
So that got me craving colour in my shoedrobe and thanks to
bonbrix
I found these beauts.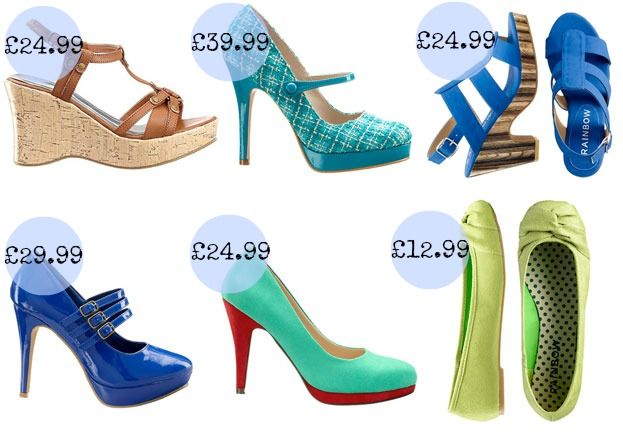 Ok the brown wedges are hardly a kaleidoscope of brights but I liked them a lot and the wedge doesn't look too dangerous so I added them in. I just reckon all of these will be perfect for spring/summer, especially the blue block-heel sandals which look comfortable enough for holiday day wear and will also make my stumpy legs look longer.
Right, I'm off to slap on some tan so said stumpy legs will look better in heels!