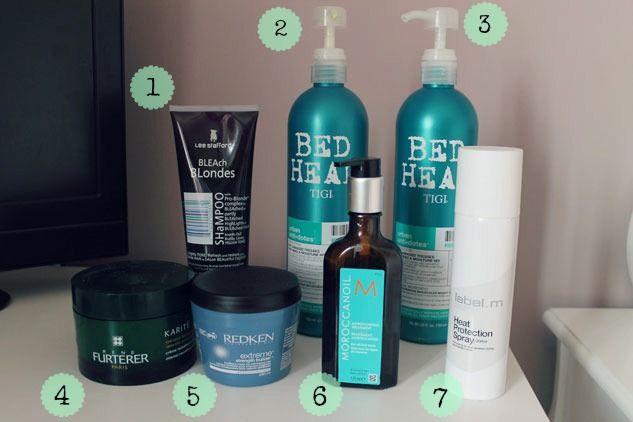 1.
Lee Stafford Bleach Blonde Shampoo
- £7.89 inc postage
2.
Tigi Urban Antidotes recovery shampoo
750ml - £11.99
3.
Tigi Urban Antidotes recovery conditioner
750ml - £13.35
4.
Rene Furterer intense nourishing mask
- £18.00
5.
Redken extreme strength builder for distressed hair
- on offer for £18.99 for the mask and the extreme strength shampoo
6.
Moroccan oil
- £30.45
7.
Label m heat protection spray
- £9.00
These are the products I've been using on my bleach and heat frazzled hair for the last couple of months in my quest for long and luscious locks (check out the alliteration thurr) and they're all wonderful in their own way. I know all together it's hardly a cheap combination of products but I thought it was worth shelling out for in order for my barnet to finally look and feel healthy. And to be honest some of these have lasted ages anyway, especially the shampoo and conditioner - it probably worked out the same price as buying a few smaller "drug store" bottles.
Rather than write a shed load about how great all of these are I made a little video, if you like the whole video thing then it'd be wins if you could go and subscribe to my
youtube channel
!