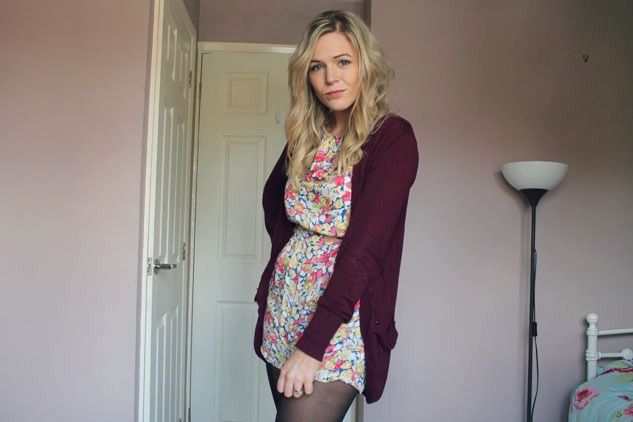 Playsuit: c/o Max C London
Cardigan: Primark
Tights: Pretty Polly from River Island (no longer available but they're on ebay here)
Chelsea Boots: c/o Soyoushoes
Despite the mardy bum face in these photos I'm not actually tampin, fumin or even the slightest bit raging, I've just caught up on The Valleys and I quite like this phrase. I don't like Natalie though, she frightens me.
I've also been to the gym tonight for the first time in years, it was only an induction and I didn't really do a lot but I can already feel my shoulders aching. It was a pretty shameful experience though, the over enthusiastic about fitness guy was like "so what do you do normally do to exercise?" and I probably shouldn't have been as honest with my "err I walk from my car to the sofa and/or my desk at work." It was also full of teenage LADS which only confirms my decision to go late at night so I can skulk on the treadmill on my todd without having to fight through a sea of vests boasting pale and skinny arms.
And on another cringe-esque note, how awful yet wonderful is the apprentice? I'm watching it as I type and the first episode is always the worst on the fist biting scale, they're all way too desperate to get airtime and please Alan. I don't know any of the names yet but there's already some Baggs types coming through and I know I'm going to become addicted.