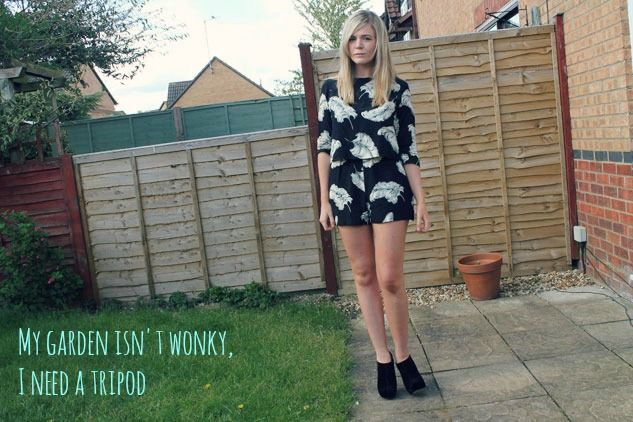 Playsuit: Motelrocks
Black Shoeboots: c/o soyoushoes
The first two photos are slightly different, honest. If you look closely you can see my hand resembles more of a withered claw in one of them...
I bought
this playsuit
from motel a couple of days ago as I seem to be going through a "hey I don't actually hate my legs too much at the moment!" stage. I also bought the
Jet playsuit
in black but I'm planning on returning it tomorrow for as welcomed as this stage in my life is, I don't plan on rejoicing by flashing but buttocks at passers by. Its
so short
! The shoes I'm tottering around in were sent to me by the lovely folk at
soyoushoes
and they will be my new
trusty black
night "out out" shoes.
Hope everyone has had a swell bank holiday weekend, as I'm typing this Tom is faffing around with our smaller than we thought barbecue in an attempt to cook sausages whilst we completely out smoke the neighbours : / I've actually had a lovely weekend, we perused the shops for gardening stuff today (a trawl and the little fork things for 99p!) and yesterday eve was spent in the cinema watching Olympus Has Fallen which in my opinion flew under the radar a little bit as it was quite the suspense film! Very much a modern Die Hard so if you're a fan of yippee ki yay-ing then I deffs recommend. It was also an excuse to get some pick 'n mix - something I don't mind buying from the cinema as it's monitored. I was gutted in Center Parcs when after starting to fill my cup I saw snotty children mauling the sour dummys, they should be made to wear gloves.
So now I'm off to enjoy my sausage bun/bap/roll/batch and bask in my last few hours of freedom before the alarm goes off at 6:30am tomorrow. Toodles.