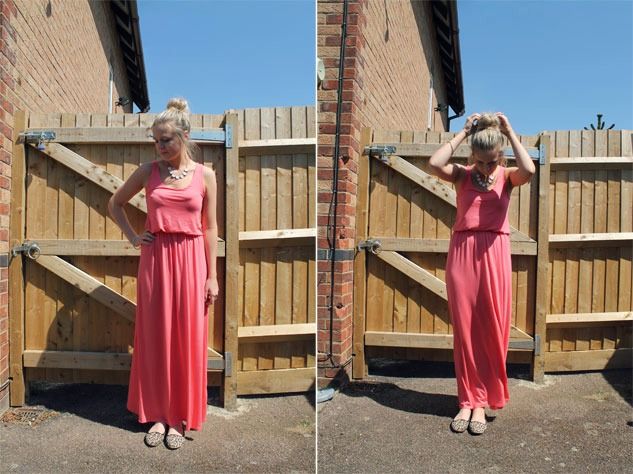 Coral Maxi Dress: c/o Karma Clothing
Daisy Necklace: Newlook (similar here)
Leopard shoes: Primark
It took a lot of effort to drag myself out of bed this morning after some gross cocktails last night, but when I saw the sun had graced us with it's ray(monds) of goodness the rigmarole of washing and drying my hair whilst the room spun was made that little bit better.
So the maxi dress was cracked out, I have never in my life ever worn a maxi dress and now I feel a fool. They're
so comfortable
and I've been missing out. I rather like the fit of this one too as it's not insanely tight around the tummy and thigh area like a few I've seen, in fact the toga style has done well disguising the food baby I'm currently lugging around!
Hope everyone is having a swell weekend? Mine's been wins so far, last night I got a bit too excited dancing to Young Money's Bedrock and Lil Jon & the eastside boyz Get Low (which was also played at my wedding reception much to the dismay of anyone over 25...) and today me and Thomas had a peruse of the "double discounts" at scs and enjoyed the sun in the garden.
I'm now settled on the sofa watching Britain's Got Talent and contemplating making myself an ice cream - I do love a bank holiday weekend.