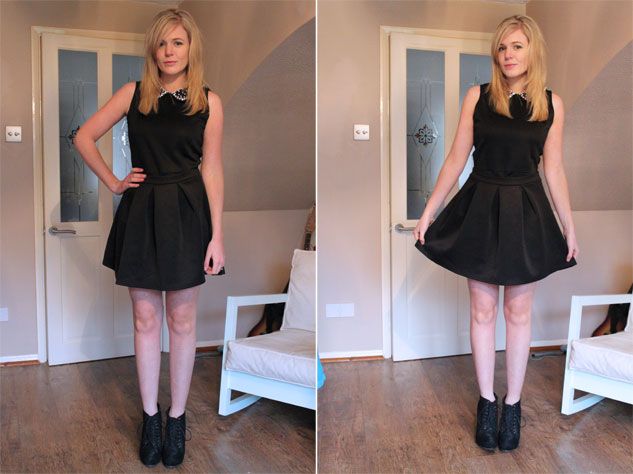 Top: c/o Fashion Union
Skirt: Boohoo
Shoes: Soyoushoes
Apologies for the yellowy photos, the weather is awful and grey so I had to use the weird bulbs from my living room. This seems to have highlighted the fact that my legs are incredibly pale/stumpy. Oh well. Anyway this top was sent to me from Fashion Union, it's actually peplum but I've hidden the little frills as they make my belly look a bit round - I love it tucked in though and this boohoo skirt is becoming my most overworn item of the moment, so tempted to buy it in an array of colours and make a technicolour skirt wardrobe like a Joseph in drag.
Anyway today has been a bit of a non day, I took Thomas to work at 6am then came home and fell asleep until
12:30 pm
, what a lazy Linda. Then I had a jaunt into town where I tried to buy some shampoo and my card declined in boots, cringe, I had that horrible moment when you know the shop assistant (who was in this case younger than I) was feeling sorry for me and patronisingly said "Do you not want them then". Golly. Rather than trying to redeem myself by explaining that I have a silly habit of swapping money between accounts I just blushed and scuttled out of the shop empty handed.
So yeah that's my day, Thomas is going to cook me some nice chicken and halloumi tonight and we're going to settle down like a pair of oldies and watch ant and dec. Oh and I snapped him doing a bit of flaring earlier and here's the result.