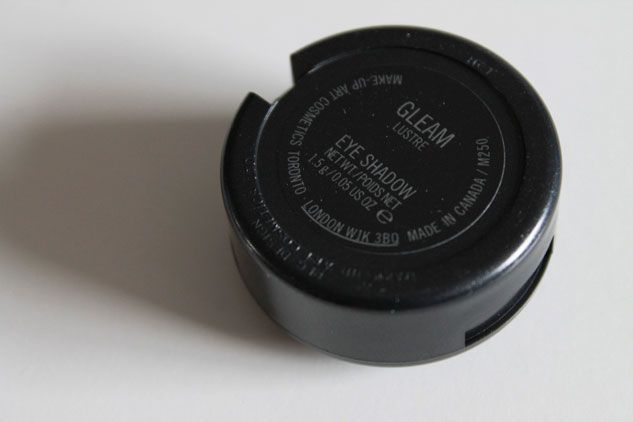 I would never in a million years pick a pink eyeshadow for myself. Actually I lie, I'm pretty sure when I was 12 I had a pink shade from some £2.00 palette that I loved and was distraught when it cracked. I digress, when I had my pre wedding makeover appointment at mac and the lady put this down in front of me I think I actually sniffed in disgust. Glittery and pink was not how I imagined my preened and flawless wedding face to look.
I had to eat my words
(or thoughts as I'm not that horrid!). Whilst gleam looks a bit too pink in the pan, out of it it transforms into a shimmery peachy pink with a rather pretty gold shimmer running throughout. Being a lustre finish it isn't overly pigmented so you do have to really pack it onto the lid but the result is amazing and it has great staying power. I'm going to use a hideous cliche here and say it makes my blue eyes "pop" but tis true! It really compliments my pale skin tone and along with a peachy blush and a nude lipstick I had a natural "english rose" wedding face that I'd never have thought to go for before if it wasn't for the nice Mac girl.