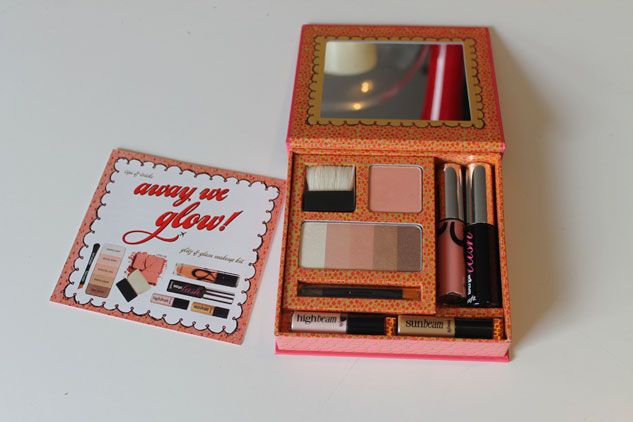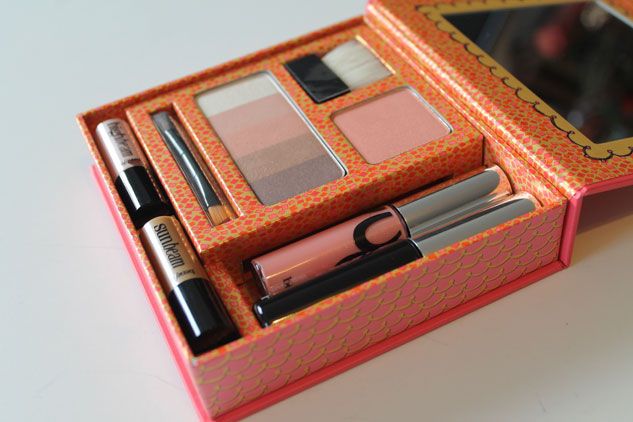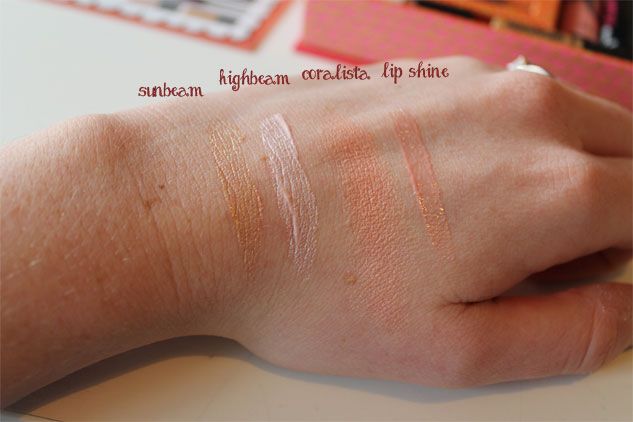 Two things that spring to mind when I think of Benefit are their kitsch packaging and their ability to pull off a good Christmas gift. This year was no different as they seemed to throw cute little packages of cosmetic goodness at us in abundance and therefore made Christmas easy for both me and my sister. Great minds obviously thought alike as we both ended up buying each other Benefit goodies, whilst she unwrapped Upgrade to Gorgeous I was tearing into Away we Glow and huffing that her wrapping was better than mine.
Away we Glow is a great little kit featuring a whole lotta items in one making it perfect for travelling, something I'm guessing the guys n gals at benefit thought of when branding it. Rather than waffling on about the palette as a whole I'm seperating this here review into the different products within it. Soooo
Coralista Blush
: A pretty coral (duh) blush perfect for spring/summer. I'd wanted to try this for yonks but didn't want to shell out the 23.50 for a full size if the colour was going to be too bright on my pale
skin. It isn't. It's lovely and peachy and pinky and I don't think it will be leaving my face anytime soon.
Eyeshadows:
I've been using the two darker shades the most for work (which I actually just typed as worky by mistake, gross) and the lightest shade for inner corner action, all the shadows are buildable and long lasting with a nice soft finish.
Life on the A List Lip Shine:
I'm not a massive lip gloss girl as I just end up getting annoyed when my hair sticks to it. That being said I've only used this once but the colour was noticeable without being too bright and it had a sheer finish. It was quite sticky but most lipglosses are.
Bad Gal Mascara:
Oh bad gal, I'm a fan of thee and always will be. They're Real has tried to theive my affection but I'll always love your huge brush. Full review
here
.
High Beam:
Again, another love. If you want your cheekbones to be more noticeable and like a dewy finish to your skin then try this.
Sun Beam:
Another highlighter but this is perfect for winter fake tanned/summer actual tanned skin. Whenever I think of fake tan I always hear that girl from Sorority Girls in my head, "Then another layer of fake tan, then i hairdry my bodddehh", if you know what I'm on about lemme know so I don't feel like a freak.
So thats that, on a non beauty note I'm off to watch Sun Sex and Suspicious Parents and by the time I get enough signal to upload this (the wonders of tethering) it'll probably be over and I'll probably be all cringed out.