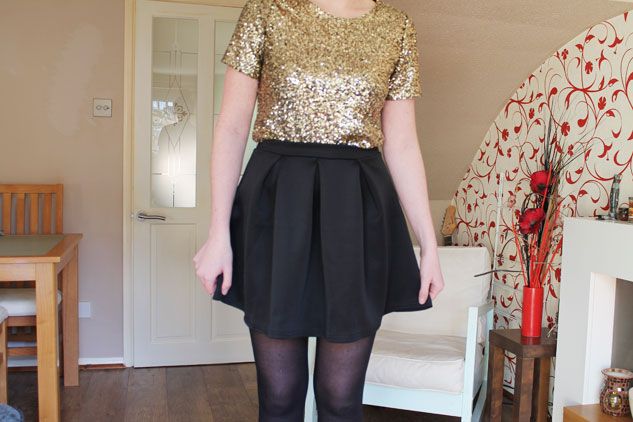 Sequin Top: Missguided
Black Skater Skirt: Boohoo
Lace Shoeboots: So You Shoes
Golly it seems like forever since I last pranced around in front of my tripod to take some outfit photos! Apologies for the lotsgoingon in the snaps, after failing to take photos in my garden I spent ages roaming around my new(ish) house trying to find a hint of a blank wall but this was the best I could do, I feel the feature wall is taking some of my glory away though : /
This outfit was actually meant to be minus the tights and plastered with fake tan for my sister's 30th birthday shindig last night, I actually bought the outfit especially, however thanks to my silly stomach and having some man open it up and prod around my innards I'm a bit unmobile and couldn't attend. Sad face. Even taking these was a bit of an effort - the things I do for my little blog!
So yeah thanks to said man this week has pretty much been spent in a onesie festering on the sofa whilst the rest of the world went about their business, I forged a strong relationship with both Jeremy Kyle and the Loose Women and said a sad farewell to Big Brother. I also came to the realisation that my hair has stopped growing
again
and has turned into a big dry frizzy mess so bought myself a (hopefully) decent hair mask - any recommendations on the hair mask front? I went with a Redken one from
lookfantastic
as it was 25% off but I'm always on the hunt for more.
Right, I'm off now to toddle back to the sofa to catch up on all the blog action I've missed.